Homepage About CST Organization Chart
Vice-president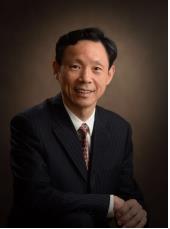 Jianwei ZHOU

Nanjing Medical University

Department of Molecular Cell Biology & Toxicology, Cancer Center, School of Public Health, Nanjing Medical University

Distinguished Professor (周建伟, 医学博士,教授)

Active member, American Association of Cancer Research (AACR)

Vice President, Chinese Society of Toxicology (CSOT)

President, Jiangsu Province Society of Toxicology (JSSOT)

Email: jwzhou@njmu.edu.cn; Mobile: 13701465635

Jianwei ZHOU, M.D., Ph.D

Research Interest

The Structure and Function of Environmental Response Gene

Aging and Cancer: From Molecular Basis to Translational Research

Education

Visiting Scholar. Center for Comparative Respiratory Biology and Medicine, University of California, Davis, C.A., U.S.A., 1996.03-1998.03

Visiting Scholar. School of Public Health, Sun Yat-Sen Medical University, Guangzhou, Guangdong Province, P.R. China, 1992.08-1993.07

Ph.D. in Occupational and Environmental Health, 2003, Nanjing Medical University, Nanjing, Jiangsu Province, P.R. China

M.D. in Preventive Medicine, 1982, Nanjing Medical College, Nanjing, Jiangsu Province, P.R. China

HonorS and Awards:

2016 Experts on Special Government Allowances of the State Council, P.R. China

2012 Ministry of Education University Scientific Research Achievement Award in Natural Science

2006 Youth Specialist with Outstanding Contribution to Jiangsu.

2005 Jiangsu Provincial Science and Technology Progress Award

Ongoing Research Projects

PI, An animal model of premature aging in mice caused by a defective environmental response gene (JWA). NSFC, 81673219, 2017-2020

PI, Study on the sequential strategy of inhibiting gastric cancer/melanoma metastasis based on the JWA/MDM2 regulatory network. International Co-operation Key Project of NSFC, 81520108027, 2016-2020

Co-PI, Genetic basis of tumor heterogeneity, the innovative group project of NSFC, 81521004, 2016-2021

Selected publications

1. Qiu DP, Wang Q, Wang ZD, Chen JJ, Yan DL, Zhou Y, Li AP, Zhang RW, Wang SY*, Zhou JW*. RNF185 modulates JWA ubiquitination and promotes gastric cancer metastasis. Biochim Biophys Acta. 2018 Feb 23;1864(5 Pt A):1552-1561.

2. Wang RH, Zhao X, Xu J, Wen YF, Li AP, Lu M*, Zhou JW*. Astrocytic JWA deletion exacerbates dopaminergic neurodegeneration by decreasing glutamate transporters in mice. Cell Death Dis. 2018 Mar 2;9(3):352.

3. Wang Q, Chen Q, Zhu LW, Chen MJ, Xu WX, Panday S, Wang ZD, Li AP, Røe OD, Chen R, Wang SY, Zhang RW, Zhou JW*. JWA regulates TRAIL-induced apoptosis via MARCH8 -mediated DR4 ubiquitination in cisplatin-resistant gastric cancer cells. Oncogenesis. 2017 Jul 3;6(7):e353.

4. Xu WX, Chen Q, Wang Q, Sun Y, Wang SY, Li AP, Xu S, Røe OD, Wang M, Zhang RW, Yang LQ, Zhou JW*. JWA reverses cisplatin resistance via the CK2-XRCC1 pathway in human gastric cancer cells. Cell Death Dis. 2014 Dec 4;5:e1551.

5. Wang SY, Wu XM, Chen YS, Zhang JB, Ding JJ, Zhou Y, He S, Tan YF, Qiang FL, Bai J, Zeng JY, Gong ZH, Li AP, Li G, Røe OD, Zhou JW*. Prognostic and Predictive Role of JWA and XRCC1 Expressions in Gastric Cancer. Clin Cancer Res. 2012 May 15;18(10):2987-2996.

6. Bai J, Zhang JB, Wu J, Shen LL, Zeng JY, Ding JJ, Wu Y, Gong ZH, Li AP, Xu S, Zhou JW* and Li G. JWA regulates melanoma metastasis by integrin avb3 signaling. advance online publication. Oncogene 2010, 29: 1227-1237

7. Wang SY, Gong ZH, Chen R, Liu YR, Li AP, Li G, Zhou JW*. JWA regulates XRCC1 and functions as a novel base excision repair protein in oxidative-stress-induced DNA single-strand breaks. Nucleic Acids Res. 2009 Apr;37(6):1936-50.

8. Zhou JH, Ye J, Zhao XJ, Li AP, Zhou JW*. JWA is required for arsenic trioxide induced apoptosis in HeLa and MCF-7 cells via reactive oxygen species and mitochondria linked signal pathway. Toxicol Appl Pharmacol. 2008, 230:33-40.